Your ideal desktop tool for project management and mindmapping.
Organizing your work and igniting creativity.
Mindmapping ignites your creativity and empowers brainstorming. We help organize brainstorming into an engaging minmdap for greater clarity, so you can convert ideas into outcomes.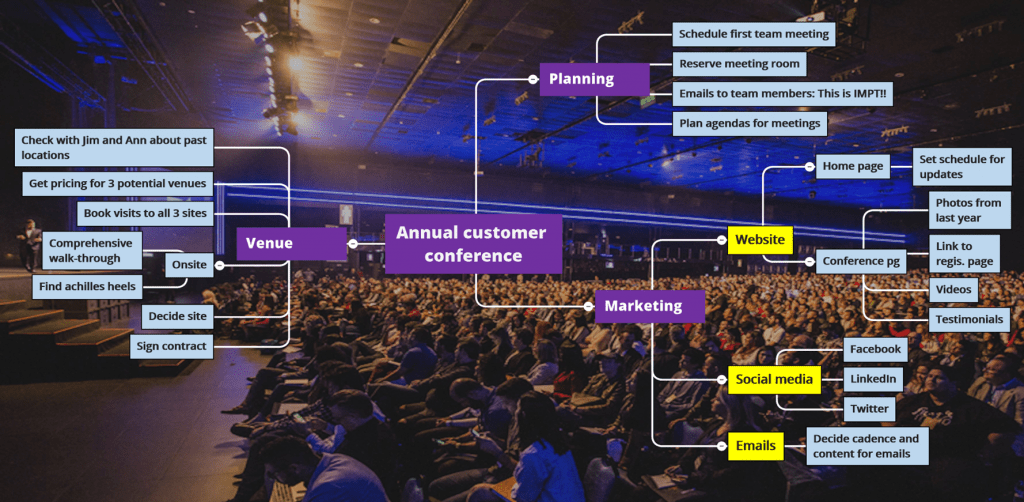 Conferences work out better
Your new business works out better
Your screenplay works out better
Your dissertation works out better

Windows desktop mindmapping and
complete project management.
How MindGenius enables successful projects
Project management can be complicated. MindGenius makes it simpler, yet more complete.
We start with something that most project management software skips over: Laying out a foundation of information, objectives, and constraints for your project.
We make this critical up-front process simple.
Then MindGenius makes it easy to:
Assign resources
Set durations and dependencies
Review progress
Keep your plan updated.
Mindmap: Brainstorm, then organize
Timeline: Set and review timing

"I tried several of the trial versions of competing software over a month's time, and I found MindGenius to be the most versatile, the most intuitive by far, and just a delight to work with."
"MindGenius 20 is truly unmatched as a project management tool."
"You're limited only by your imagination what you can use it for. I couldn't live without it, to be honest."