Project Initiation Instruction Mind Map
Project Initiation is the very start of the project lifecycle.
The example below shows the detail that needs to be captured to determine feasibility of the project as well as what will be needed to gain approval to go ahead.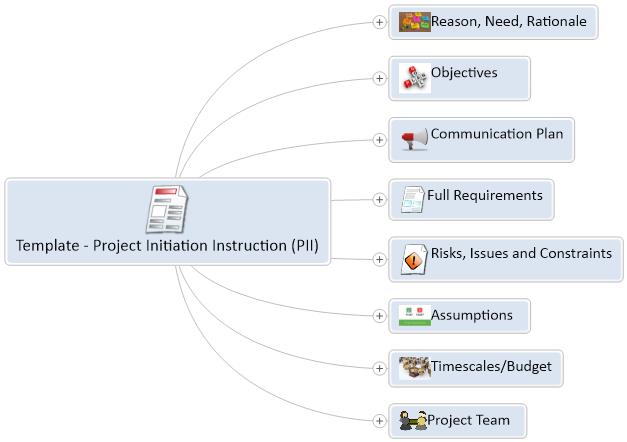 1. Reason, Need, Rationale
    1.1 Why are we undertaking this project?
2. Objectives
    2.1 What are we delivering?
3. Communication Plan
    3.1 How will the project be delivered?
4. Full Requirements
    4.1 Detail the full project requirements?
5. Risks, Issues and Constraints
    5.1 What are the risks, issues and constraints?
    5.2 List top risks with owners and mitigating actions?
6. Assumptions
    6.2 Are there any key assumptions?
7. Timescales / Budget
    7.1 When will the project start?
    7.2 Add in broad major timelines with dates and the timeline view of Barvas will seamlessly create a              timeline chart for the project
    7.3 When will the project be delivered?
    7.4 How much is it likely to cost?
8.0 Project Team
     8.1 Who is responsible?
     8.2 Identify team members
     8.3 Identify key stakeholders