Mind mapping is something that you may have heard of and used before throughout your education and work-life In fact, when many of us think of brainstorming sessions, we tend to see a group of people huddled around a desk, throwing ideas back and forth while someone jots these down on a whiteboard – more often than not, in the style of a mind map.
There are many benefits of using mind maps for brainstorming – whether you're doing it alone or with a group of people and MindGenius 20 allows you to capture the conversation as it occurs.  Just think about it this way; how many times has someone in your meeting taken a picture of your whiteboard notes to send to everyone and the ideas have gotten lost in your email inbox? Keep reading to discover how to plan and hold an effective brainstorming session in MindGenius 20…
Step One: Create your mind map
To get started launch Mindgenius 20 and select File and New from the tool bar to start your first session (as shown below).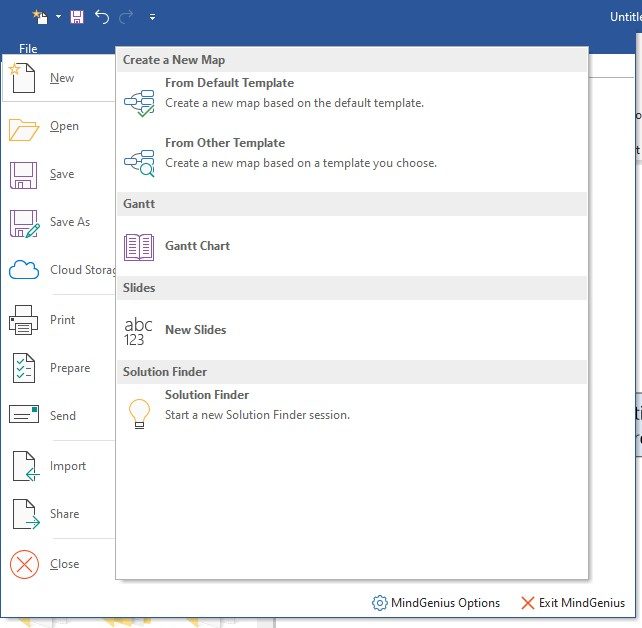 Step Two: Get collaborating!
Starting with a key theme or objective as the focus of the map (such as 'Organise Annual conference) simply type and return to capture your ideas. Don't worry too much about the position of the words initially just let this creative thinking technique help your brain to trigger associations between the words, phrases, and add images if that helps on each branch, which encourages you to generate more creative ideas.

Don't worry about resizing your map because the layout automatically adjusts as you add more branches, so you don't need to worry about keeping it looking tidy and organized – just leave that to us!
Once your basic information is in place simply drag and drop the branches to move them to the correct place and use the picture gallery to add our standard images or add your own. There's plenty of options to add colour and alter the look of the map available from the Format Toolbar.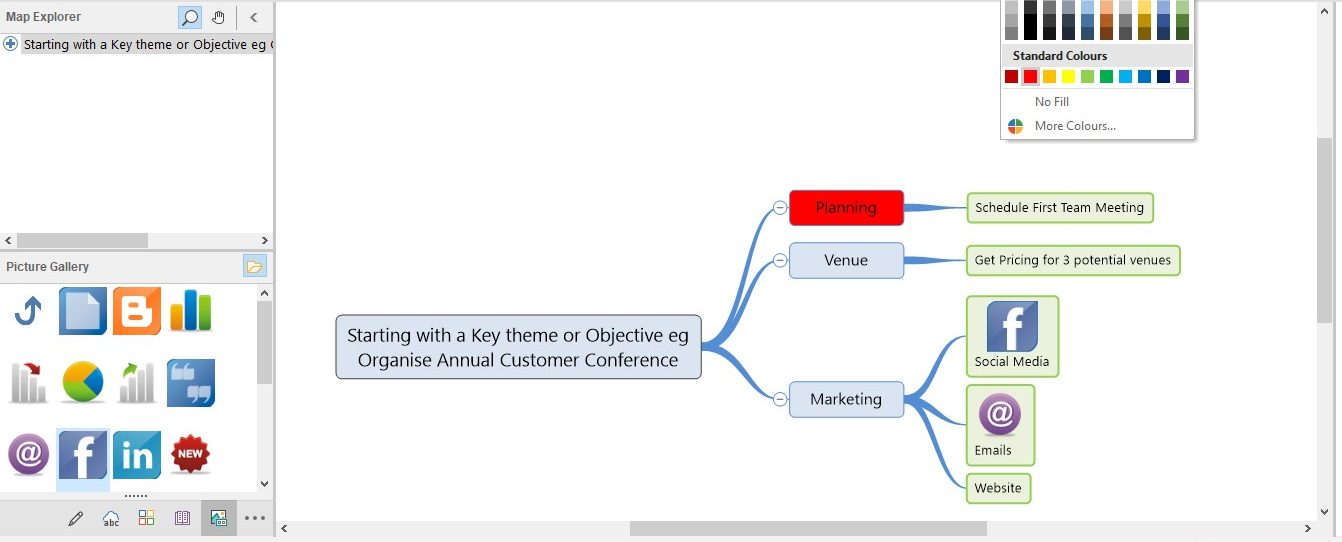 Equally if its important to get some priority and focus on your plans use the category dropper to your map and utilise the analyse tab to filter the map and interrogate your information to allow you to focus on what's important to you. Don't worry we never delete any information we simply hide it in the background so it's all available when you need it.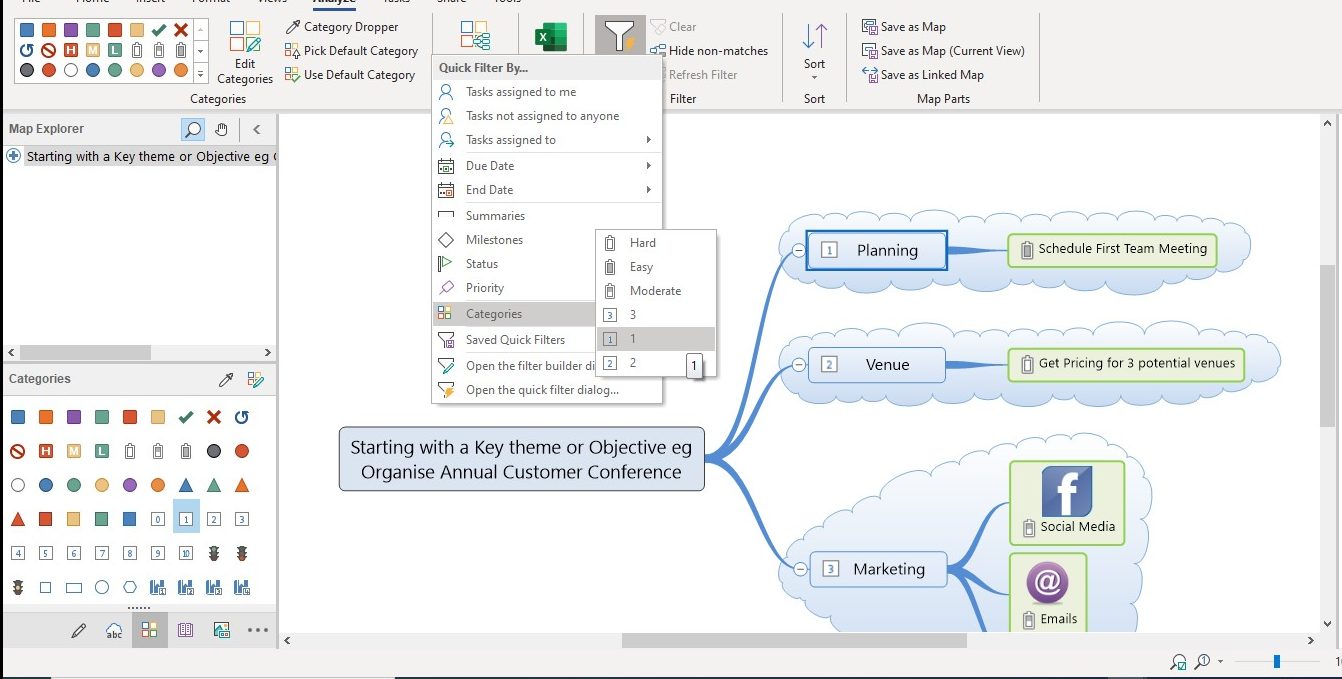 Step Three: Turn your ideas into actionable tasks
Thought of a winning idea? Put the wheels into motion before you have a chance to leave the meeting and forget about it by easily turning the branches of your mind map into tasks. These can then be managed in the dedicated task board.
When you turn a branch into a task using the task tab, you can instantly delegate it to a specific member or members of your team if you have already decided that they will be working on it.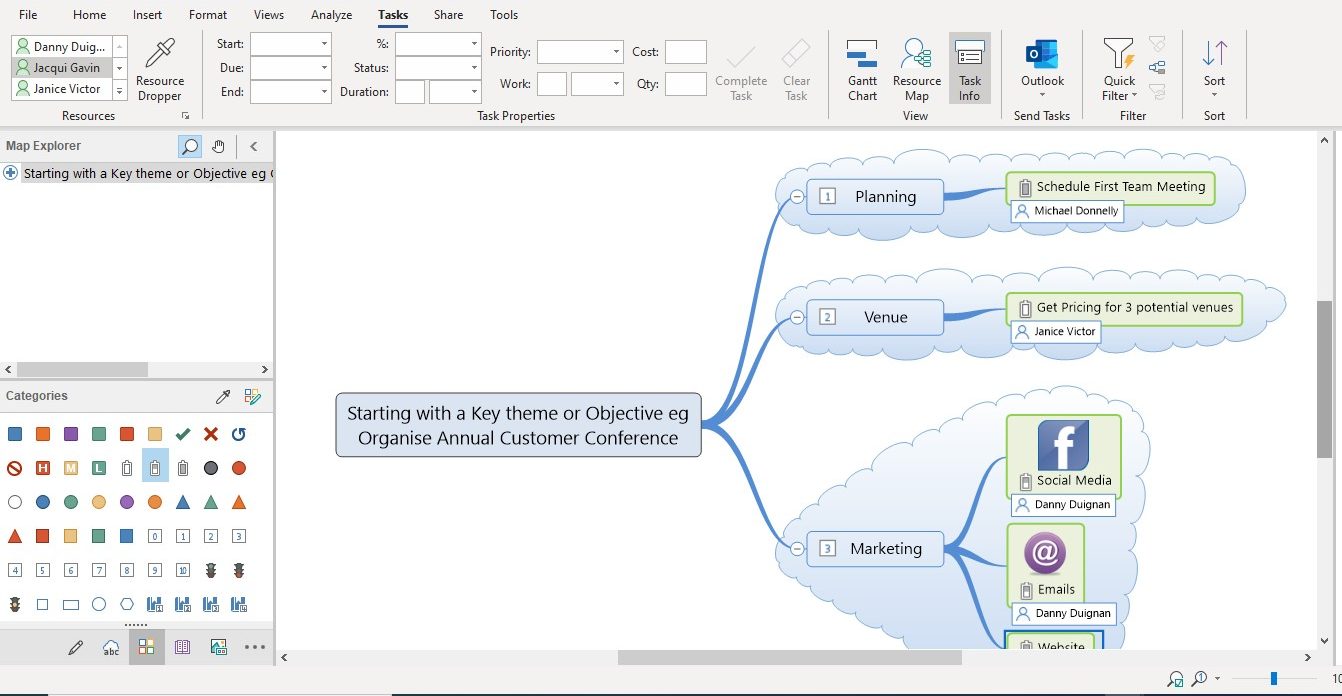 And look at their workload using the View tab and selecting resources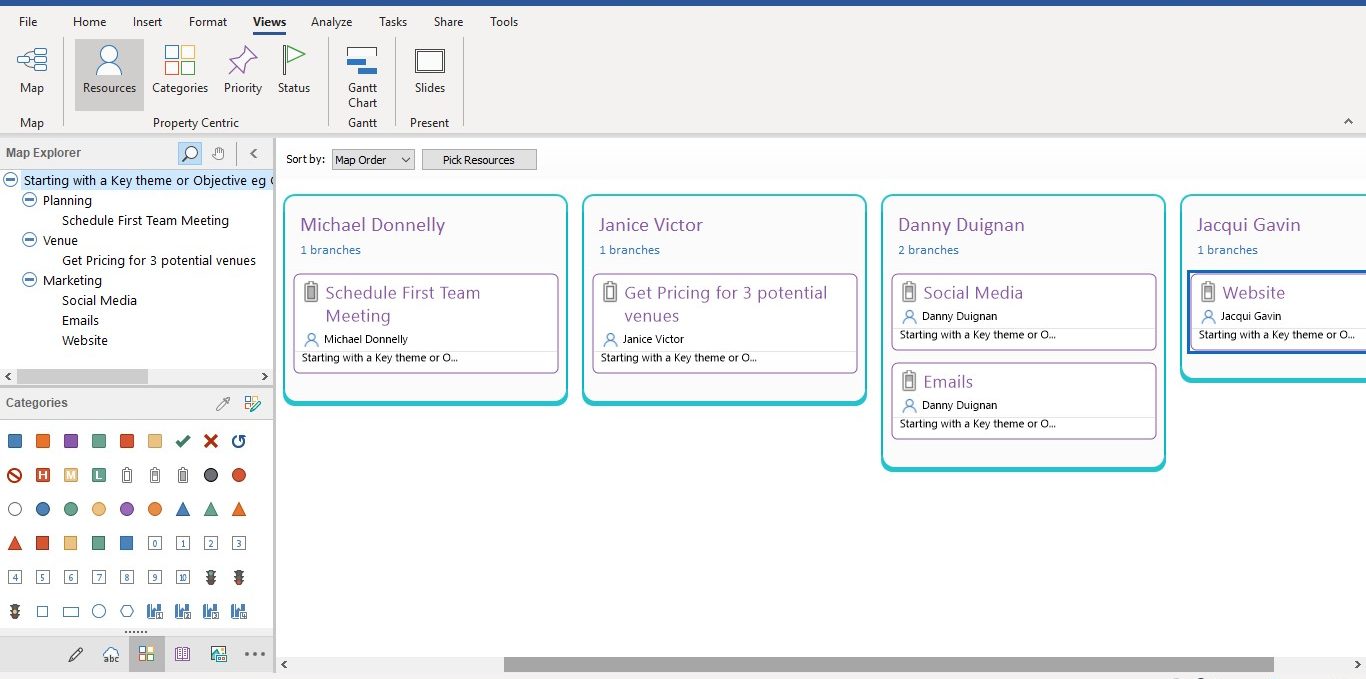 What started as a brainstorm has evolved into a trackable actionable plan – think of all the time this approach could save you . Enjoy and good luck with your first map.
You can get started with MindGenius 20 today by downloading you free 14-day trial here.